Interviews with foreign employees

We interviewed two foreign employees working in the nursing care field in Kobe.
PROFILE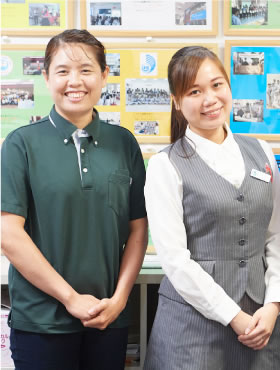 Ms. Vo Phuong Dung (right)

Born in Vietnam. She came to Japan in 2016 after studying agricultural economics at a university in her home country and attending Japanese language school. Majored in marketing at a university in Kobe. Currently, she works at Houonkai Social Welfare Corporation as an administrative staff and in charge of education for foreign residents.
<Qualification>
Japanese Language Proficiency Test N1 / Nursing Specific Assessment Test (Nursing Techniques, Japanese For Nursing)
Training on immigration/residence procedures and application procedures for foreign nationals
Ms. KYI KYI KHAING (left)

Born in Myanmar. Came to Japan to study Japanese. A friend invited her to work for her current corporation, starting part-time, and she also obtained her certification. She currently works at Laguna Care Chidori Sanso as deputy chief.
<Qualification>
Japanese Language Proficiency Test N2 / Traning on sputum suction and tube feeding / Certified care worker
How did you come to work in the nursing care field in Kobe?
Ms. Dung I went to university in Kobe and considered going straight to work after graduation. The Houonkai where I work has a headquarters training center, a facility for foreigners to study nursing care qualifications, and I thought I could work while receiving support to acquire qualifications.

Ms. KYI I started out as a part-time worker when I was attending a Japanese language school in Kobe and was invited by a friend. I wasn't interested in it at first, but I was so happy to hear the old men and women who used the service said, "Come back again," that's why I continued and I have been working here as a full-time employee until today.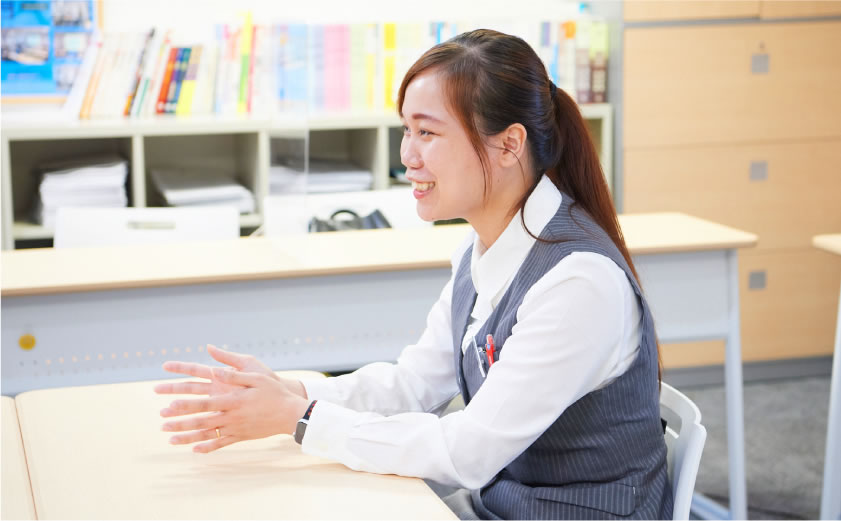 What do you do now?
Ms. Dung I provide Japanese language education for foreign employees working at nursing care facilities operated by the corporation and support them in preparing for examinations and also doing online teaching Japanese language to those who are currently live in my home country who are planning to come to Japan and perform administrative work such as immigration and visa procedures.

Ms. KYI I work with Japanese staff members at a special nursing home for the elderly, providing physical care for patients, assisting with transportation, and planning and implementing recreational activities. I have been appointed as the position of deputy chief of staff now.
What is the Attractiveness of Kobe as a working environment?
Ms. Dung At the training center, many foreign employees from other facilities also come, so I can meet many people, including fellow Vietnamese.

Ms.KYI The Kansai dialect can sound harsh at times, but I think many people in Kobe are gentle and kind. The corporation I work for has many foreign employees and I feel comfortable working with supportive people like Ms. Dung.
What is the Attractiveness of living in Kobe?
Ms. Dung Although I don't live in Kobe, there are many communities and social gatherings for foreigners, and it is easy to make friends outside of work. I think it is good that there are many Vietnamese living in the area and many stores selling Vietnamese food and restaurants.

Ms.KYI Many people are used to foreigners and are friendly. As a native of Myanmar, the city is just the right size for me and has a good public transportation system. A friend invited me to work in Tokyo but I declined because I didn't like the commuting crowds. There are also a couple of Myanmar stores.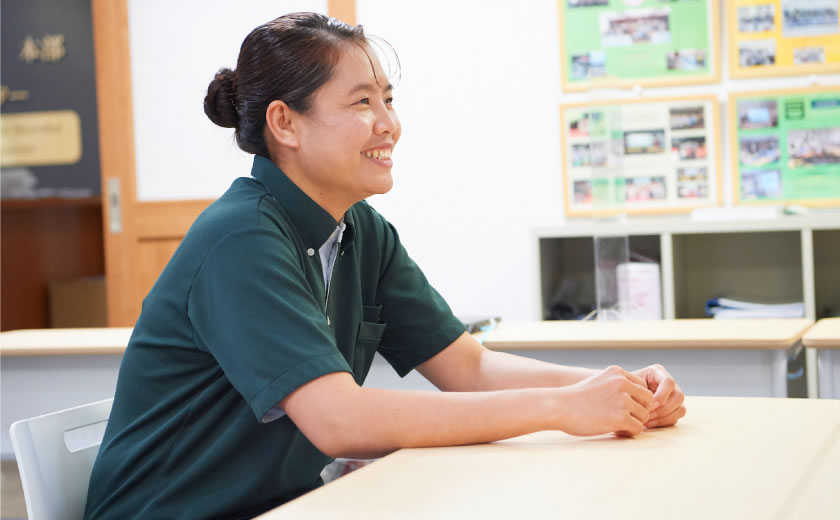 Message to those seeking careers in Kobe
Ms. Dung Especially in our Houonkai, there are about 30 foreigners and they are of various nationalities. Personally, I would like to see more Vietnamese people like me come to Japan but as a person who supports foreign employees, I believe that the most important thing is the strength of feeling. There were many who could not move or worked hard even with support. If you work hard just like any other job, you can achieve self-fulfillment.

Ms. KYI I was not originally interested in working in the industry, so I started out as a part-timer and I was able to develop my career while working and acquiring qualifications. Some of my friends who work in the same nursing care industry have had difficulty adjusting to an environment with few foreigners in their workplaces, but I am sure they would be fine in a place like our facility where there are many foreigners.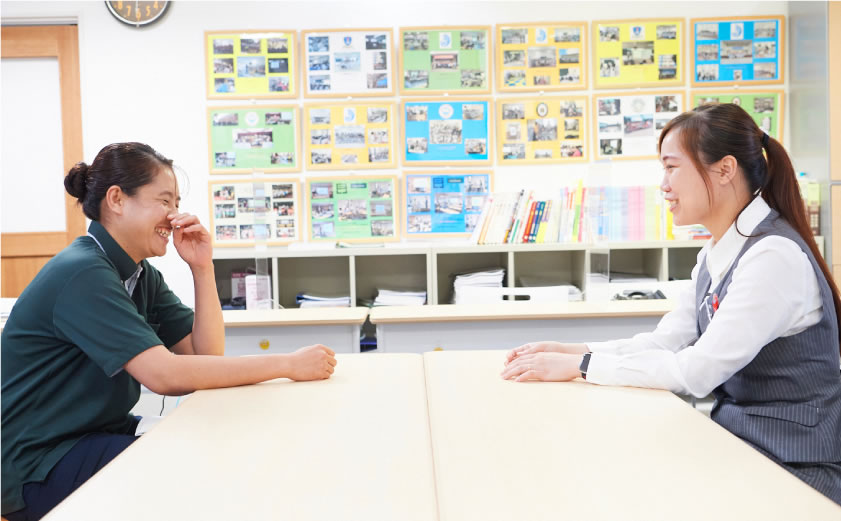 PROFILE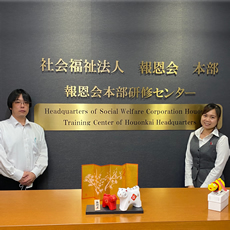 Houonkai Headquarters Training Center

<Hyogo Ward>

The company provides caregiver training, staff training, training for foreign caregivers, employment counseling for students, and lectures on caregiving techniques to universities in Southeast Asian countries.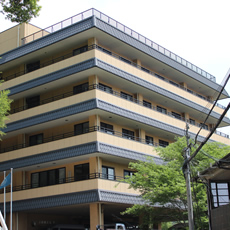 Laguna Care Chidori Villa

<Hyogo Ward>

We provide a total range of welfare services for the elderly, including special nursing homes and short stays, in a friendly living environment that feels like a familiar home.